Welcome to the Rheophysics of Soft Matter group at UCAS International Soft Matter Center and Wenzhou Institute!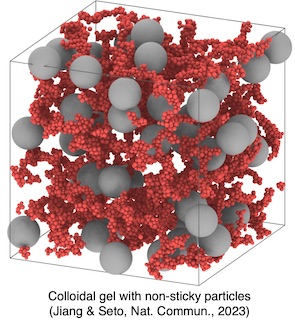 What's New
2023.5 - Our paper about colloidal gelation with non-sticky particles is out in Nature Communications. Y. Jiang, R. Seto, Competing Lengthscales in Colloidal Gelation with Non-Sticky Particles Featured in Editors' Highlights
2022.10 - Our odd viscosity paper is out now on Frontiers in Physics(open access).
Z. Zhao, M. Yang, S. Komura, R. Seto, Odd Viscosity in Chiral Passive Suspensions, Front. Phys., 2022.
2022.3 - Review paper published in Annual Review of Condensed Matter Physics:
C. Ness, R. Seto, R. Mari, The physics of dense suspensions, Annu. Rev. Condens. Matter Phys., 13(1):97–117.
2021.12 NSFC-RFIS grant
2021.9 New paper with Giulio: G. G. Giusteri, R. Seto, Shear jamming and fragility of suspensions in a continuum model with elastic constraints, Phys. Rev. Lett., 127:138001, 2021.
2021.5 BCAM visiting fellow for May–June 2021.
Wenzhou Institute, University of Chinese Academy of Sciences (国科温州研究院)
UCAS International Soft Matter Center
Ryohei Seto seto@wiucas.ac.cn